We created a website and a set of plugins for a famous futurist institute website in the US. It features interactive visual elements and  a powerful dashboard for the client to keep the website updated.
PROJECT STATEMENT: Our client requested to create a website based on her PSD mockup and add interactive elements. We replicated the mockup exactly as requested, and created a fringe sketch plugin that features flying nodes that connect into fringe sketches, color swapping functionality, and add-ons to the used theme to make sure it looks exactly like on the mockup.
SOLUTION: Since the client was familiar with WordPress, we selected WordPress as CMS for this project. We created fringe sketch plugin with interactive possibilities. In order to make it easy to use for our client, we created a powerful dashboard which allowed her create nodes and connections without any tech knowledge by simply drugging and dropping the nodes.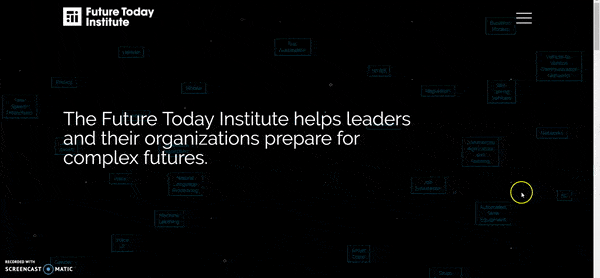 Color swapping plugin was another important plugin we created for this project from scratch. Each time user loads the page, the color of fringe sketches, menu, links and image overlays changes. Client can easily change/add/remove colors as well as assign which element should change the color in the intuitive dashboard we created for this plugin.
We also created a special add-on for the page builder plugin to achieve custom look and functionality for the news section.
RESULT: The client received 100% unique website that looks exactly like PSD mockup and features out-of-the-box functions and interactive elements.